Look what we've been doing......
We had a great day on Wednesday celebrating England reaching the semi-final of the World cup! We did lots of different football themed activities and even practiced singing It's Coming Home!!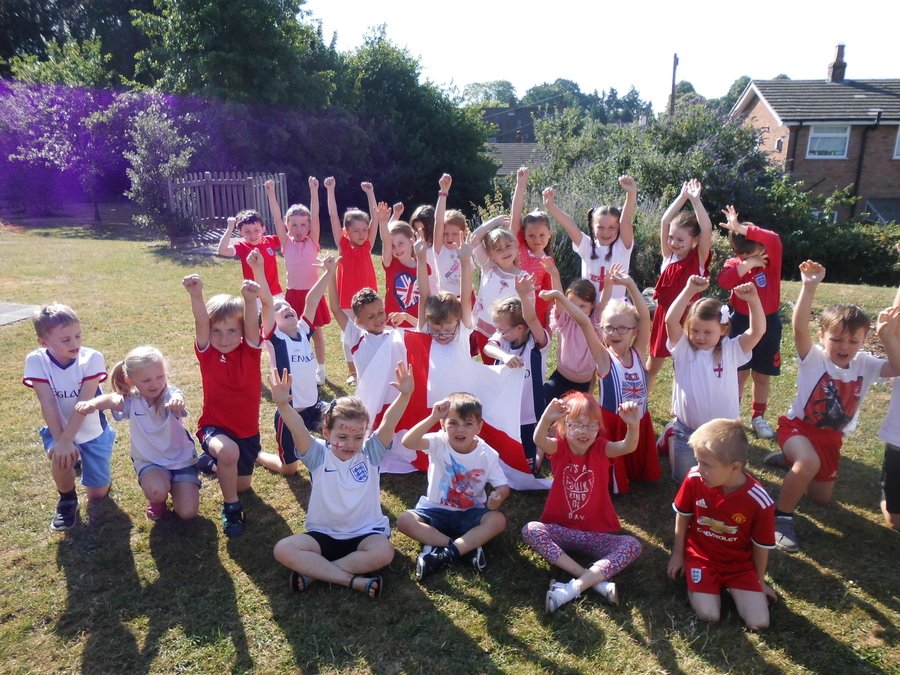 On Tuesday we had our Sports Day and weren't you brilliant! You were all showing off your skills and having a go and it was great to see the grown ups getting involved too.The races were very exciting and you were all so fast it was difficult to see who had won. In the afternoon we had our very own egg and spoon race in blue class and you had to try very hard not to drop the egg. Well done to everybody you were all great sports!
What a brilliant day we had for Seaside Day! We has lots of fun making beach art, eating an ice cream, riding on a donkey, bouncing on the bouncy castle, choosing glitter tattoos, laughing at Punch and Judy, eating fish and chips, splashing in the paddling pool, playing beach games on the playground and finally making sandcastles in the sand. Everyone was so well behaved and I thoroughly enjoyed my very first Seaside day with Blue Class.
We had a fantastic day on Friday 18th May when we had our very own Royal Wedding. Everybody looked very smart in their wedding outfits and were really well behaved all day. The children from Blue Class who were part of the Royal Wedding Party were fantastic. It was a very special day and one that I'm sure that you will always remember. We had a fantastic wedding breakfast and party in the afternoon. Congratulations Harry and Meghan!
On Canal Boat Day we were mixed up into groups with our friends in the rest of Year 1 and 2. We learnt lots about Canals, Canal Locks and we even built our very own Canal. We had lots of fun!
Look what we've been doing......
This Wednesday Blue class had a fantastic time on our trip to Rays Farm (even if it was a bit cold). We enjoyed visiting the Fairy tale Forest, telling stories, and looking at the animals. We found Oscar the Giant's chair, the three bears, and we were brave enough to walk over the troll's bridge. We even found a fairy ring by the fairy house were we all made a special wish After our lunch we went to look at the beautiful owls like the owl on our school logo. We had a super time and I was very proud of Blue Class, your behaviour, storytelling and enthusiasm was fantastic!
For International Food Week we have been learning all about Mexico. On Monday afternoon we tried some Mexican food. We had some Fajitas, Tortilla crisps, Guacamole and Salsa. We were all very brave and tried the different foods even though they were a little bit spicy!
For Arts Week, our theme was the book Alan's Big Scary Teeth. First we read and learnt the story map and then we did lots of activities throughout the week. We made, Egg Box Alligators, Paper Plate Alligators, Toilet Roll Jungle Animals, Paper Chain Snakes, Paper Plate Lions and Elephants, Parrots, a leaf vine and we all had a go at sewing one of Alan's razor sharp teeth! We all had lots of fun and have used our pieces to make a display, make sure you have a look next time you are in the classroom. A big thank you to all the helpers this week and for all the toilet roll, cardboard and egg box donations! Happy Half Term Blue Class!
On Monday we chose our favourite toppings for our pancakes. We did lots of writing about pancakes and the toppings we like.
We had lots of fun watching and learning the Chinese Lion Dance on Wednesday. We did lots of Chinese new year activities in class including making our own Chinese Lanterns - make sure you have a look at them when you next come into class!
On Wednesday afternoon we had a Medieval Banquet. We dressed up as Princesses, Princes, Kings, Queens, knights and soldiers and tried food that they would have eaten in the medieval times. Then we decorated a place mat and took part in some medieval court dances.
On Monday, we had lots of fun riding our bikes, scooters and skateboards to explore pushes and pulls. We investigated how we make ourselves move, speed up and slow down and we thought about what would happen if we were on grass, ice or water.
We had lots of fun watching the Image Theatre Company's performance of Robin Hood. The actors were brilliant and our favourite characters were Robin Hood and Maid Marion. We have been doing lots or writing and topic work all about Robin Hood.
Look what we've been doing......
We have had lots of fun opening our Advent calendars and seeing what the cheeky magic Christmas Elf has been doing each morning. We had a lovely time making decorations with our grown ups at our Inspire workshop and then had lots of fun at our Christmas party, meeting Father Christmas.
We have been doing lots of work with shape: finding shapes around school, sorting shapes and making patterns with shapes.
This Wednesday Blue class had a fantastic time on our trip to Severn Valley Railway. We enjoyed visiting Highley Engine House, sorting out the letters and post on the Royal Mail Train and looking at the different Steam Engines. After our lunch we walked over the bridge to Highley Station where we waited for our train in the waiting room and chatted to the Train Guard. We were all very excited when we could hear our train coming down the track and see the Steam! On the train we all enjoyed talking to the the ticket collector and looking at the views out of the window, we saw: horses, the River Severn, Hampton Loade train Station and we were very lucky to pass a Diesel Train. Finally, we arrived at Bridgnorth station and got back on the coach to come back to school. We had a super time and I was very proud of Blue Class!