Look what we've been doing!
We are all ready and very excited to watch England in tonight's semi-final! COME ON ENGLAND!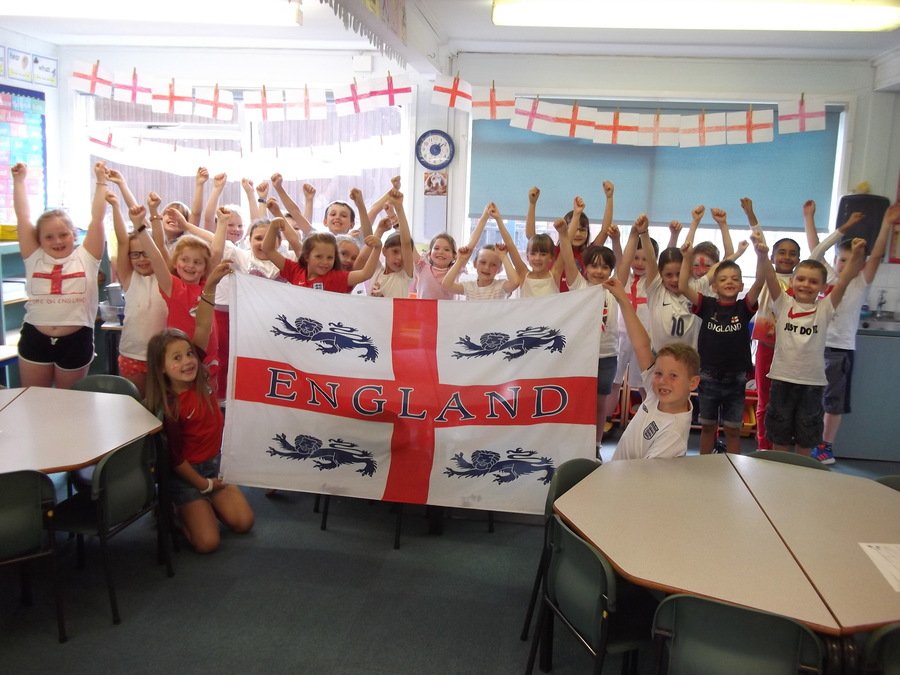 We had an amazing time on Seaside Day! It was a fun-filled day and we were so lucky to have such beautiful weather.
On Thursday we went to Ludlow Castle. We had a fantastic time taking part in the activities including dancing, archery, looking at the armour and meeting the surgeon!.We learnt lots of amazing things and wrote a super recount of our day.
To finish off a super term of hard work, we had a fantastic time on our Easter Bonnet Parade! Everyone put a huge amount of effort into making Easter Bonnets- they ALL looked brilliant!
We all thoroughly enjoyed ourselves on the trip to Ray's Farm. We saw lots of fairytale sculptures on the enchanted woods walk and then we saw some animals in the barn.
We all had a SUPER time during Arts Week and made some beautiful things.
On Wednesday we had a visit from Leo the lion who performed a brilliant dance for us to celebrate Chinese New Year. It was absolutely fantastic to watch and then we even got to have a go at wearing the different costumes and playing the instruments.
Gung Hay Fat Choy!!
Image Theatre came to our school this week and performed Robin Hood for us. We particularly enjoyed watching our friends take part in the acting and when we had a chance to sing a long with them. Watching the play has really helped us with our writing too!
On Wednesday we had our Christmas Party. It was so fun listening to Christmas songs and having a disco in our classroom! We played lots of party games and we even had a very special visit from Santa! We sang Christmas songs with him and then we all had a turn to say hello and he gave us each a lovely present.
We had another really fun maths lesson this week! We started looking at fractions and used jam tarts to help us to recognise 1/2 and 1/4. We worked with a partner to cut the jam tarts in half and into quarters... and then we were allowed to eat them! Yum Yum!!
In maths we had a look at money and we used coins to make different amounts. We found it really easy to find the total amount of money that we had by counting the coins in 2's, 5's and 10's!
In Halloween maths we scooped out all of the seeds from pumpkins and counted how many seeds there were. There were over 100 seeds in each pumpkin! Our hands got really gooey and the inside of the pumpkin felt really slimy. After that we used the seeds to make some arrays.
On Tuesday, we went to Severn Valley Railway. We found out lots about trains in the engine house, pretended to work for the Royal Mail sorting letters and had a look at a train engine. Then we walked to Highley train station and waited for our train to arrive. It was really exciting when we saw it coming! On the train we enjoyed the views whilst eating our lunch. We arrived at Bridgnorth and got on the coach to come back to school. It was a super trip and everyone in Turquoise behaved brilliantly!
In Science this week, we investigated how to change the shape of materials by stretching them. We had lots of discussions about how we could make the longest snake by stretching playdoh. Then we worked with a partner to make the longest snake- it was really fun and we learnt lots about making it a fair test.
We have had lots of fun in maths this week looking at number bonds and place value. We found it really helpful to use double sided counters to represent which numbers we could use to make 5, 6, 7, 8, 9 and 10.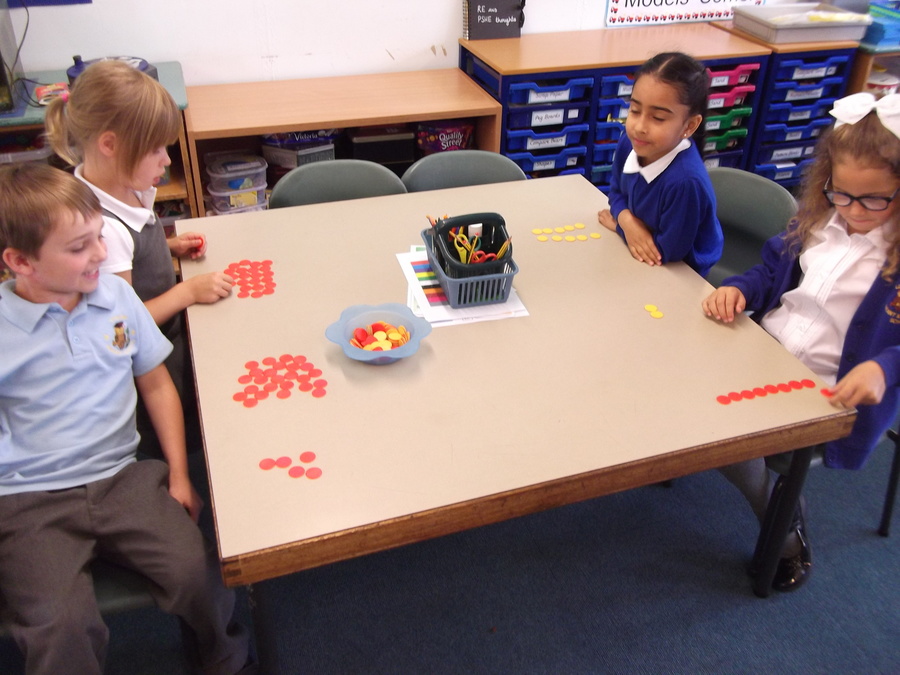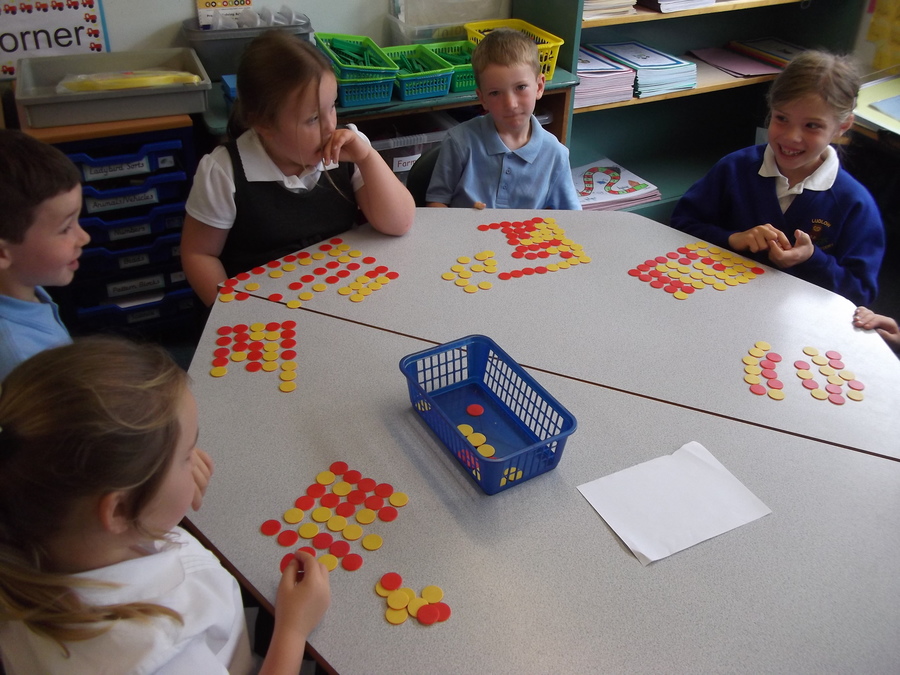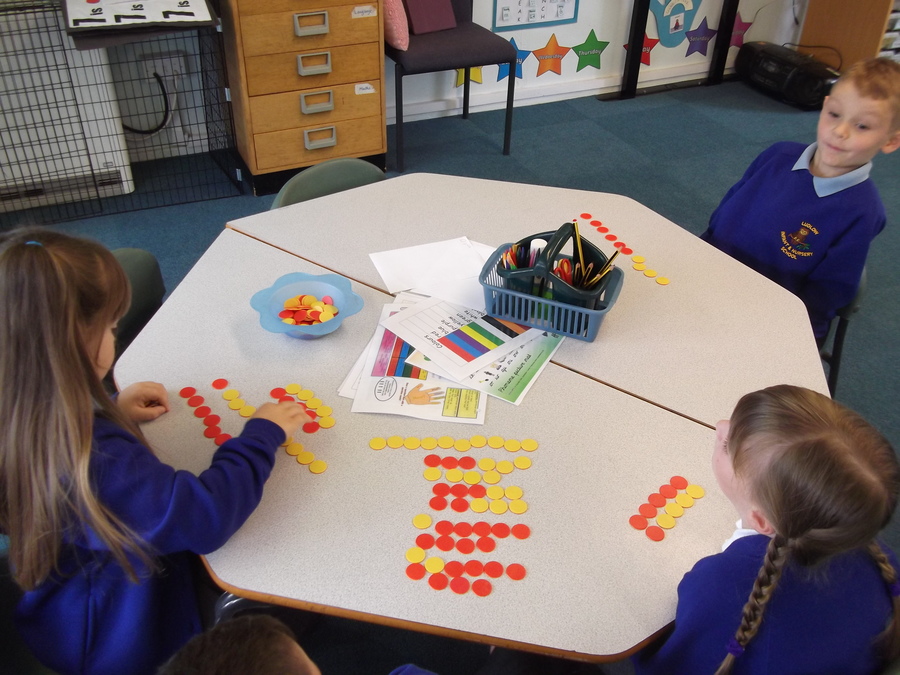 Welcome back Turquoise Class! I hope you have all enjoyed your first week back as much as I have. You have been fantastic and I am proud of you ALL for your hard work and excellent behaviour.