Look what we've been doing!
16 year 2 children represented Ludlow Infants at a Hockey festival with children from other schools at the Football Club. You were so well behaved and made us all very proud whilst learning a new skill. Well done to Kelsie who won the Sports star award this week for her enthusiasm!
FAIRTRADE FORTNIGHT!
We have been learning about Fairtrade for the last two weeks including learning where chocolate comes from! We have been writing persuasively to encourage people around schools to buy Fairtrade products and even wrote to the Prime Minister, Theresa May. On Friday 8th March we went to a Fairtrade event at the Methodist Church in Ludlow where we learnt lots more about Fairtrade from people who had been to visit people who now live and work for Fairtrade companies. We also took part in a competition to design a Fairtrade bag that will be used by shops selling Fairtrade products around Ludlow so keep an eye out for your bag.
On Thursday morning all our Year 2s went to Multi Skills. You were all so well behaved and it looked like you had a fantastic time. Well done for having a go at everything.
WORLD BOOK DAY!
Wow! You all made such an effort for World Book Day and looked fantastic! We spent the afternoon reading, playing guess the character and designing our very own book covers.
During the last week of our half term we had Arts Week. Our theme was Humans so we looked at the work of Picasso. We completed different art activities each afternoon to create some beautiful pieces of art inspired by Pablo Picasso. Thank you to all of the parents who came in to help. I hope you all have a fantastic week off and I look forward to seeing you after Half Term.
After learning the story of Pinocchio since coming back after Christmas we were lucky enough to watch Image Musical Theatre Company perform the story today. Some of us chose to have a part in the play and the rest of us made up the chorus. You were all fantastic at singing and Poppy, Charlie and Louie you were brilliant at remembering your lines!
On Tuesday 16 year 2 children represented Ludlow Infants at a Cricket festival with children from other schools at the Leisure Centre. You were so well behaved and made us all very proud whilst learning a new skill. Well done!
CHRISTMAS JUMPER DAY!
Merry Christmas and a Happy New Year!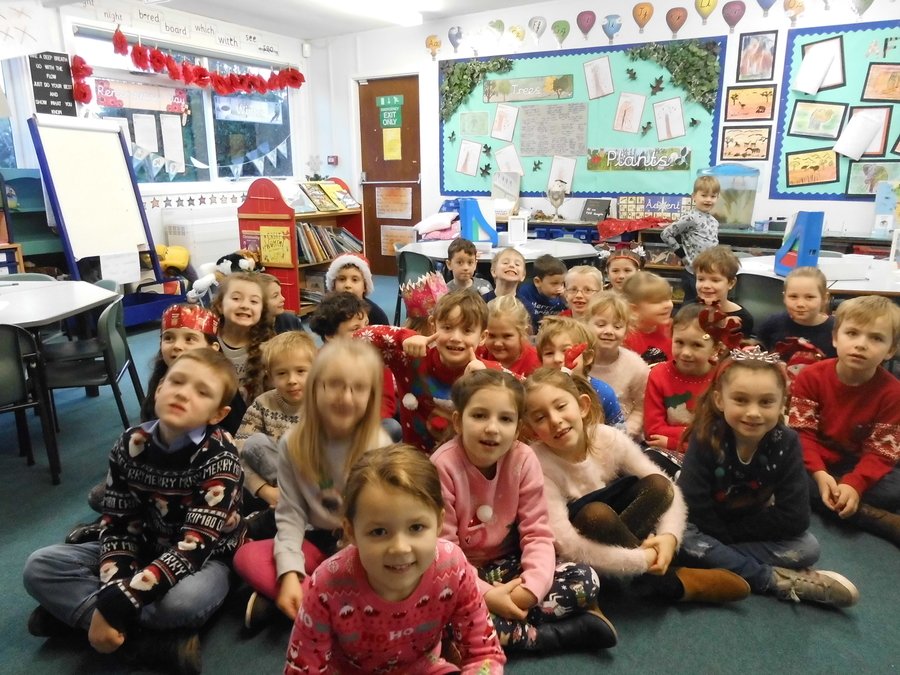 WOW! You were all fantastic in your Christmas Performance 'Away in a Manger'. I was so proud of you all for singing and speaking with such loud voices. I'm sure your grown ups were also very proud. We even had a special present from Sparky after your last performance.
Some of Turquoise class represented our school at Ludlow hospital on Wednesday. We took the narrators from Christmas Play to tell the Christmas story and the soloist singers to help spread some Christmas cheer. The people watching had big smiles on their faces and really enjoyed listening to your beautiful singing voices. Well done!
Wow! What a fantastic Christmas dinner and party afternoon we had on Wednesday! You were all so well behaved and had lots of fun. We even had a special visit from Father Christmas and Rudolph! I can't wait to read your writing all about it on Friday!
Thank you for coming to our Inspire workshop on Monday, we hope you had a lovely time. The decorations look beautiful hung on the tree in the hall and in the classroom.
We had a great time at the Safari Park. We saw all of the African animals that we had been learning about and even saw the new baby rhino which was so cute! I think our favourite part was meeting Sunny and his family of Meerkats in the African village. The children were all so well behaved and I was very proud of them.
We had a fantastic time making apple crumbles for the Farmer's Market. We sold them all! They looked lovely and you all worked so hard to help make them: chopping apples, measuring the ingredients and using your hands to make the crumble. Well done!
Welcome back Turquoise Class! I hope you have all enjoyed your first week back as much as I have. You have been fantastic and I am proud of you ALL for your hard work and excellent behaviour.